9 Reasons to visit Destin Beach in the Winter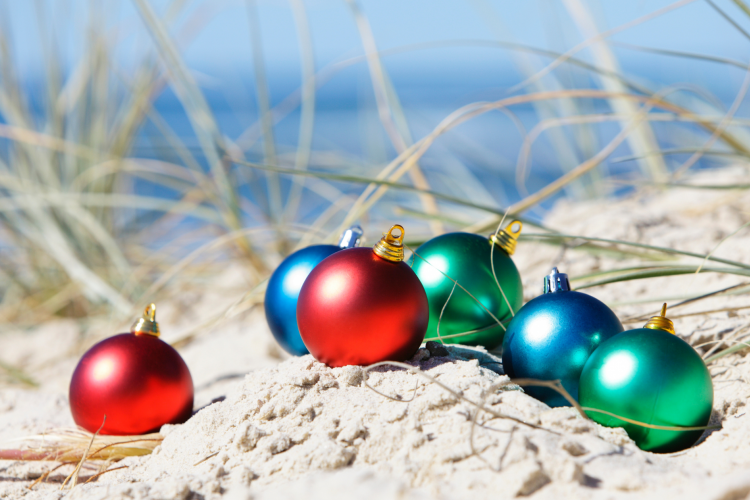 Destin Florida Locals will tell you that winter is one of the best times in Destin, FL. Since September - February is Destin's off-season, the traffic and the crowds die down making it easy to access all of the fun things to make the most of your vacation. The Winter weather in Destin is comfortable, and the views are always amazing. Those are just a few things that make Destin Beach an excellent winter destination for guests and snowbirds, but there's so much more!
Destin Florida's Beautiful Sunsets 
There's something about the sunsets during the Fall/Winter months in Destin. Starting in October, the sunsets become more vibrant with red and orange hues. Sitting in the snow-white sand and watching the sun slowly sink on the horizon, is one of the most peaceful and beautiful things to do in Destin.
Affordable Travel 
Because the Spring/Summer months are when we welcome most of our visitors, Fall/Winter is the most budget-friendly time to visit! Reduced rates give you more money to spend on activities or events, like shopping, or relishing in the delicious flavors of our local restaurants. 
Festive Activities to Get into the Holiday Spirit
The holidays in Destin are just as beautiful and fun as our beaches. From boat parades to Santa's arrival, Destin's holiday activities bring out the little kid in all of us. Enjoy the gorgeous, fifty-foot Christmas tree at the Destin Commons, the beautifully illuminated gardens at Eden State Park, or the Mistletoe Market at Harborwalk Village. Drink a cup of hot cocoa on your balcony, or make sand angels on the beach!
Destin's Private Beaches
Well, not all of our beaches are private, but in the Winter you would never know. Cooler weather makes it more difficult to swim in our sparkling emerald waters, but not difficult at all to set up a spot on our snowy white sand and read a good book while you enjoy the sound of the waves crashing against the shore. Don't forget that it's more fun to shovel sand than it is to shovel snow. 
Plenty of Parking & Fewer Crowds
During peak season, it can be extremely difficult to find a parking spot at many places, including public beaches in Destin. During Winter, you can drive to Harborwalk Village in half the time and find ample parking spaces. It's never hard to find a terrific spot at the beach either!
Destin Beach Weather
Destin Florida weather in December is perfect. There's nothing like leaving your heavy Winter gear behind and enjoying days spent outside in shorts. The temperature stays in the 50's or 60's, with an occasionally chilly day that's nothing compared to the snowy streets of Chicago. Pack a jacket just in case, but leave your snowboots and ice scrapers at home.
Destin Shopping
Destin has some of the best outdoor malls and outlet stores for anyone looking for a good deal. It's easy to find fabulous deals and discounts on everything you need to finish your Christmas shopping. After Christmas, prices tend to drop more because store owners are ready to bring in the new season's items.
Excursions and Outdoor Activities in Destin FL
If you like to hike nature trails, bike down the beach road, or try your skills at paddleboarding in our emerald waters, Destin Beach has everything you need for your next adventure. Visit the historical fishing museum, visit the dolphins and sea life at the Gulfarium, or take a day trip to the Marianna Caverns.
Golfing in Destin FL
At a fraction of the rates charged during the summer months, you can enjoy some of the most beautiful golf courses you've ever seen. Cooler weather and fewer people make a day on the course a reason to come back again and again.
Destin in the Winter
Destin is an excellent winter destination filled with fun fireworks, live music, and a festive Christmas parade. Take advantage of the holiday season and start planning your Emerald Coast vacation during the best season.
Destin Beach Vacation Rental Inc would love to have you. Our Destin and Miramar vacation rentals are one of the best reasons to visit Destin Beach. We strive to give our guests a fabulous experience, and want to make sure your stay is nothing less than perfection!  Contact us to help plan your next beach getaway to Destin. We have excellent restaurant recommendations, or a fun place to get gifts for the ones you left in the cold, we would love to assist you! 
Destin Beach Vacation Rentals has winter availability and monthly pricing for snowbirds, whether you want to get away from the cold for the Winter months, or you just want to visit for Christmas and winter holidays we have the perfect place for you!