A Little Place Called Destin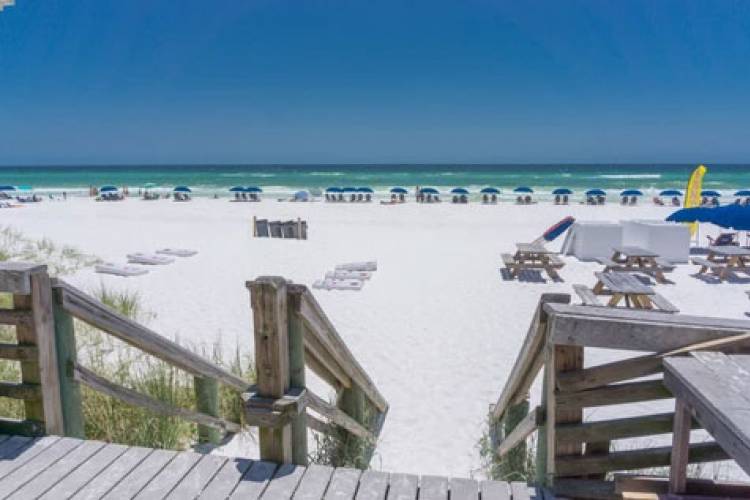 Have you ever heard of Leonard Destin? We didn't think so. Our friend Leonard was a fishing captain from New London, Connecticut, who settled in the area between 1845 and 1850. At that time, what we know today as Destin, was called Moreno Point. Moreno Point was named after Don Moreno, a businessman and realtor who bought and sold property along the western coast of Florida, including Moreno Point.
In 1842, Moreno Point was officially designated a military reservation and renamed Moreno Point Military Reservation. Mr. Destin became one of it's most notable settlers, discovering a small peninsula labeled "East Pass". He established a successful fishing business and sold the fish he caught from East Pass (also known as Destin Pass) to a company in Pensacola.
Twenty years after Mr. Destin's death, a close friend of his named William Marler applied to become the first Postmaster of East Pass. They denied his application stating that the town needed a shorter name. When he returned the application, the town of Destin was born.
Since Leonard's days, Destin has become a thriving town where locals & tourists alike enjoy the emerald water & white sand & lives up to the self proclaimed title of the "World's Luckiest Fishing Village". Florida's Department of Environmental Protection estimates that more than 80 percent of the Emerald Coast's 4.5 million yearly visitors travel to the region to visit Destin. That's a lot of people who love Destin as much as we do!
While the white sand and emerald water are surely one of the things that draws you to our area, so many things will make you want to come back year after year.
Destin offers the best in dining and shopping experiences. Destin Commons features restaurants like Uncle Buck's Fishbowl & Grill, where your party can play a super fun game of bowling and also eat like kings. You'll find Yankee Candle, American Eagle Outfitters, and even a Bass Pro Shop ("World's Luckiest Fishing Village", remember?)
At HarborWalk Village you'll find fun activities for all age groups, like the Buccaneer Pirate Cruise or Aqua Spheres & Bungee Trampolines! You will enjoy a waterfront shopping experience, kayak & paddle board rentals, parasailing, world class fishing & so much more!
If you're a nature lover and the beach is what holds your heart, we ask that you stray from the sand for just a bit to enjoy some of the most beautiful state parks you've every seen. Together they offer picnic areas, swimming spots, secluded beaches, fishing destinations, and the most breathtaking scenery imaginable.
Our intention with this new platform is to create a space where our visitors can come to find anything the need to know about the Emerald Coast. We'll share fun stories, featured vacation rentals properties, interviews with locals, events, our favorite local spots, area news, and more.
Have you ever thought about buying a home in the area, either as an investment property or a new residence for yourself? We will also be sharing Real Estate information for our area and just advice in general.
We hope to see you at the beach soon!