Why Snowbirds love Destin Beach, Fl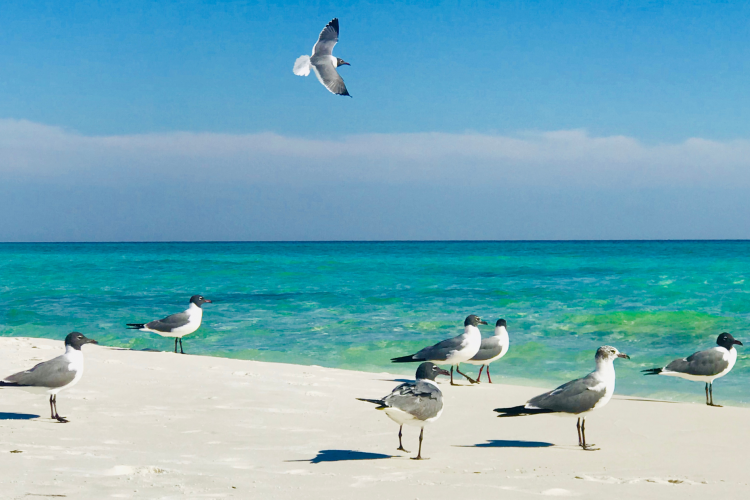 What's not to love about Destin in the winter season? The locals will tell you that winter is one of the best times to visit because the crowds die down and the weather is still gorgeous.
Snowbirding in Destin Flordia
Snowbirds who live in places where winters are harsh and full of snow, like to get a break from the shoveling and ice scraping and just enjoy the Florida sunshine and warmer weather.  
If you've been thinking about trading in that white snow, for some white sand on the Emerald Coast, here are a few reasons why we think you'd love the snowbird experience in Destin Beach, FL.
 Reasons to Snowbird in Destin this Winter
Smaller Crowds
Traffic and beach crowds can be overwhelming during the Spring and Summer months.  Destin Snowbirds like to enjoy life, relax, and maybe get in a round of golf or two. In the winter months, the traffic is bearable and the beaches are almost deserted. This makes the perfect time for sand between your toes during an afternoon stroll in South Walton or an adventure in the car.
Easy to Meet People
Since most Destin vacation rentals rent monthly for snowbirds during the winter months, it's not unusual to make new friends that you can enjoy a good lunch with, or a morning coffee on your balcony. The best part is that snowbirds tend to visit the same property year after year, so you're liable to see those same friends every year that you visit Destin Beach.
Plenty to Do
There are so many things to do for snowbirds in Destin Beach. Many of the condominiums and communities have events planned just for snowbirds in the Winter months. This gives you a chance to make more new friends, and have a little fun. From bingo to water aerobics, there's never a dull moment in Destin.
Excellent Local Food
No matter what you're in the mood for, you'll find it in Destin Beach.  Destin has some of the best restaurants for fresh seafood, gulf view dining, and snowbird discounts make for great meals! Invite those new (or old) friends to try your favorite local spot, or try a new restaurant altogether. No matter where you eat, you won't be disappointed. 
Friendly Destin Community
We love and appreciate our snowbirds, and you'd be hard pressed to find a local who doesn't feel the same way. Snowbirds help our economy, take care of our properties in the Winter, and are some of the friendliest guests that visit the Emerald Coast. Who wouldn't be happy getting out of the cold and coming to a gorgeous beach for a couple of months? 
Romantic Dating Scene
Most snowbirds come here as a couple, but there are single snowbirds who visit Destin Beach as well. It's not unheard of to find a love interest while watching the sunset on our Emerald Coast beaches. Even if it's just for a season, finding someone who enjoys the same things you do can make your stay even better!
 Destin Beach Golfing
This is a big one! Many of our snowbirds love to golf, and the Destin Beach area has some of the most beautiful courses you've ever seen. It's easy to get a good tee time, since everything in the area is less crowded, and you can enjoy snowbird discounts as well. 
 Destin Beach Weather
 We've already established that sand is better than snow, but the temperature is really amazing in the Winter. There will be chilly days, but instead of packing snow gear, a light jacket would do.
December

Average Highs/Lows - 64° / 48°

Average Rain - 7 days

January

Average Highs/Lows - 62° / 46°

Average Rain - 6 days

February

Average Highs/Lows - 64° / 49°

Average Rain - 5 days

March

Average Highs/Lows - 70° / 54°

Average Rain - 6 days
Pet Friendly Beaches
Many of our pet friendly vacation rentals will allow you to bring that extra special member of the family. We love your pups as much as you do, and we wouldn't expect you to visit without them. Several places in the area - especially on 30A - are dog friendly, and your babies can enjoy having lunch with you in some great locations.
Deals on Travel and Bookings
 Snowbirds know that Winter is the best time to visit for many reasons, but pricing is on the top of their list. During the Winter months, the prices drop dramatically, and you can get a great deal on a month-long stay. Contact us today for rates and availability. We would love to have you!